Mission Nine - Build Your Own Go Kart
Christmas and birthdays can be a challenging time for parents, who strive to find the perfect gift for their children. Many wish lists include overpriced electronic gadgets which encourage your child to stay indoors and play online. However this doesn't have to be the case as one of our amazing customers proves in the video below.
Jonathan decided he wanted to do something special with and for his son Elias. So after purchasing our DIY Build Your Own Kart Kit, they set to building their own design of go kart. Dad designed the kart with Elias's input and set up a small workshop in the garden. The wheels and axles from the build your own kart set formed the base of the design.
Luckily for us they videoed the process and this can be viewed on YouTube
Since creating the video they have painted the kart red and continue to have amazing fun on their unique creation. Jonathan commented "I wanted to give a big thumb up to the ATK DIY Go-Kart axle and wheels kit - Elias and I have had a great time building our own go-kart and it runs beautifully" This great value kit gives 4 high quality wheels and 2 axles to base the kart of your choice onto. We also include a set of instructions to build your own kart as a bonus, although you can design your own if you choose. Most customers use our guide as an idea and take the design to a much higher level.
When looking at the kart built by Elias and Jonathan, you can see it is a very sturdy beast. The wheels and axles would give this added strength too. However, the painted seating area could do with a raised lip around the edge to ensure the passenger doesn't slide off. With our Classic and Sport karts, you have a padded seat, side supports, foot rests and a rear bar to lean against. All of these features could be included into your own design and should be considered for improved safety.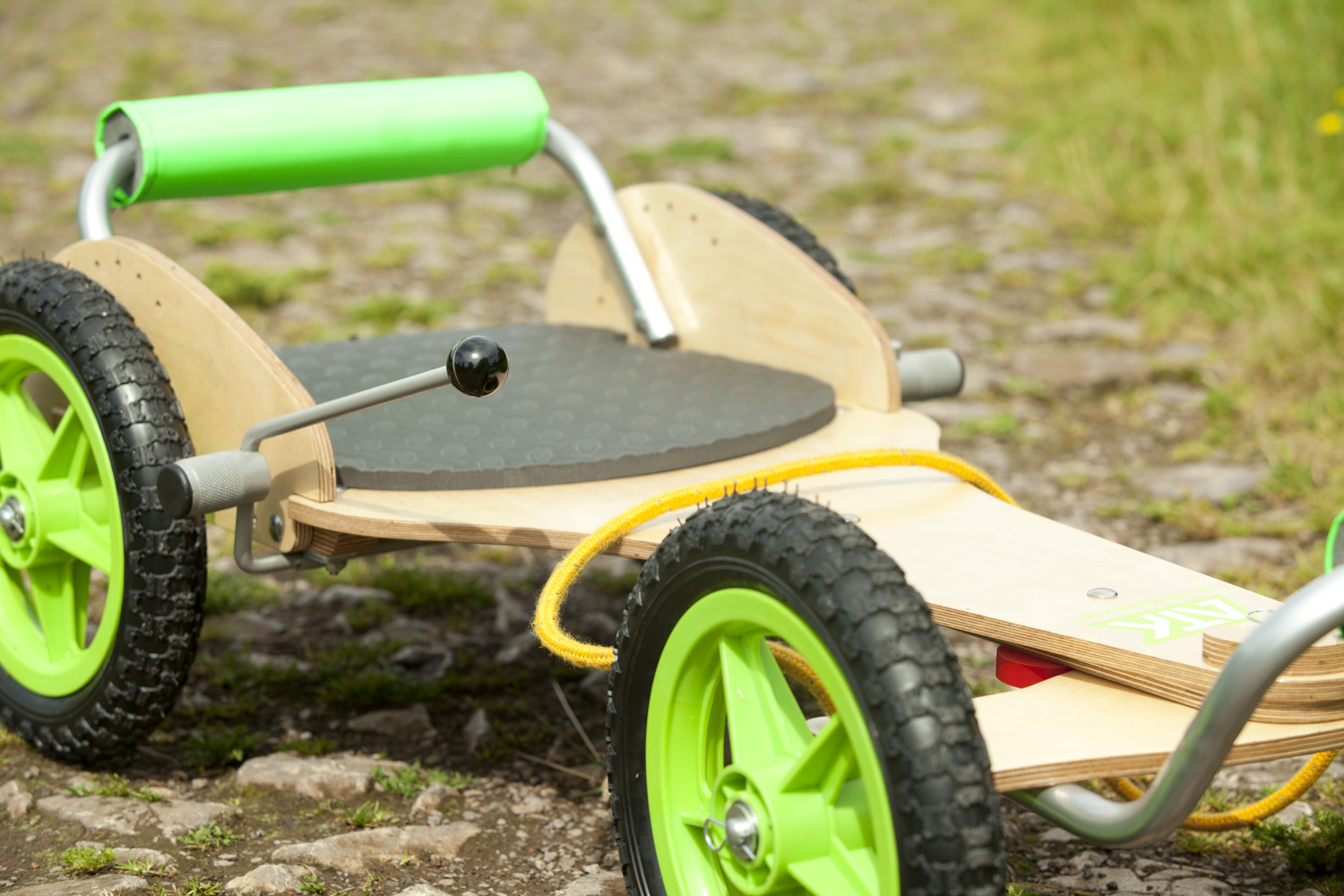 If you are building a kart without peddels then you might also want to include a braking system. Our range of karts come with a brake which works on both rear wheels and has a simple single lever pull bar. Alternatively you can add a rope to the back of the kart so you can control the speed. This is especially useful if you have young chldren sitting on the go kart. planning the kart design before you build will make the whole process much more enjoyable. I also suggest you ake photo's of the various stages of your karts build too. 
The other benefit of building your own kart is it is personal to you and your family. The time spent designing and building the kart, are memories that can last a lifetime. If you have purchased one of our DIY Go-Kart Kits why not send us your video or photo's to share. Many of our customers would love to see the karts other people have constructed and help create the most amazing karts around.