What Are The Differences Between A Go Kart And A Boxkart
What Is The Difference Between An ATK Go Kart And A Boxkart?
What is best - A Go Kart or A Boxkart?
Either form of kart will give you and your children hours of fun. There are a few differences between them which we shall highlight later. Boxkarts tend to be go karts which have been modified or adapted to be used in boxkart events often referred to as a Boxkart Grand Prix. The most famous event though is the Red Bull Soapbox Races which are held every year at various venues across the globe
A Go Kart can be a peddle kart or a gravity go kart that needs to work on a downhill slope. The ATK Go Karts are known as a Gravity Go Karts as they need a slope to propel them along. A Boxkart will also be a Gravity Boxkart as they also do not have peddles. Most competitions have very strict guidelines for their own grand prix and each boxkart needs to pass the safety checks prior to a race.
In a boxkart race the kart must be fitted with a steering column which controls the steering of the kart. A traditional go kart would use the drivers feet as a means of steering. For a home use kart, I much prefer the feet steering method as the kart can take more bumps and knocks without breaking. The Boxkart (Soapbox) karts must also have a decent suspension that will not break up, when going over the jumps, as the landings can be quite heavy. I have seen many boxkarts break upon impact as the suspension or tyres are not suitable. The ATK (All terrain Kart) Go Karts are all built with sturdy wheel axles and tyres with inner tubes or puncture free tyres which have a foam core. Both options are great for taking on the bumps and jumps on a downhill course, however the puncture free tyres give the best ride of all.
Boxkarts designed for races must also have a braking system fitted. Many of the race rules state that each boxkart shall have 'efficient brakes', I assume this means they are able to stop the kart before impact. The ATK Go Karts all have a sturdy 'efficient braking system' which is operated by the driver, by hand. This is super efficient as your feet a busy driving the kart.
A Karts sense of fun comes from the speed you can travel at. This sensation is heightened as you travel closer to the ground. As you become more experienced, you might feel more confident and risk opening up more speed on steeper hills. So for all drivers we highly recommend using protective clothing on knees, elbows and of course a safety helmet. If you are competing in a race then these will be a requirement of your entry.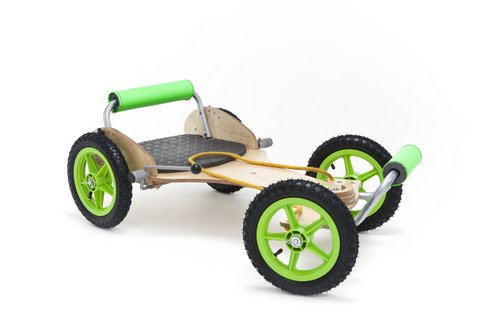 The ATK Go Karts come in a range of designs but all can be adapted to become a sturdy boxkart too. However if you wish to create one from scratch then the  Go Kart Kit would be a great starting point for your project. These include  a pair of axles and 4 sturdy tyres that can form the base of you amazing go karting fun.